How to attract top (tech) talent to your startup with the perfect job ad
Recruiting the perfect talent to fill any roles starts with writing a convincing and attractive job advert. Here are our top tips on how to write the perfect ad.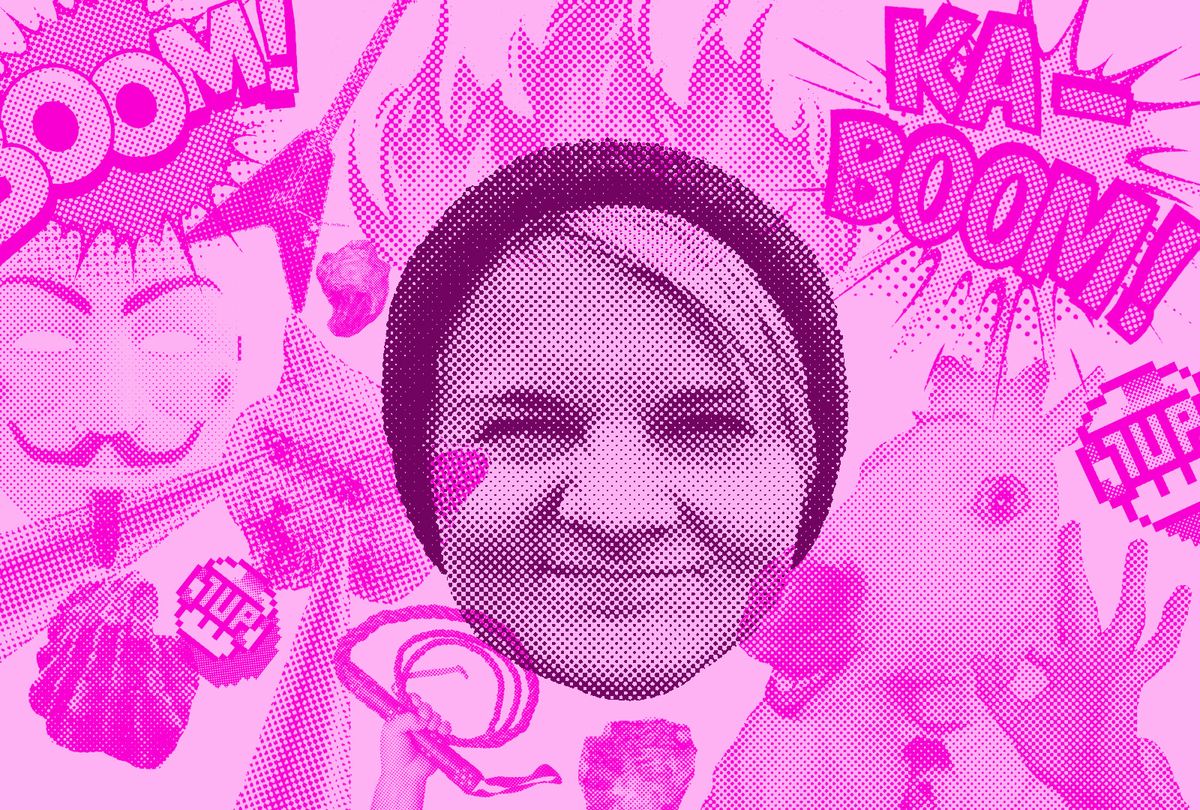 This LinkedIn post about ResQ Club's job ad I spotted from a Discord suddenly received lots of love.
I decided to break it down a bit to point out leanings for a great (tech talent) job ad.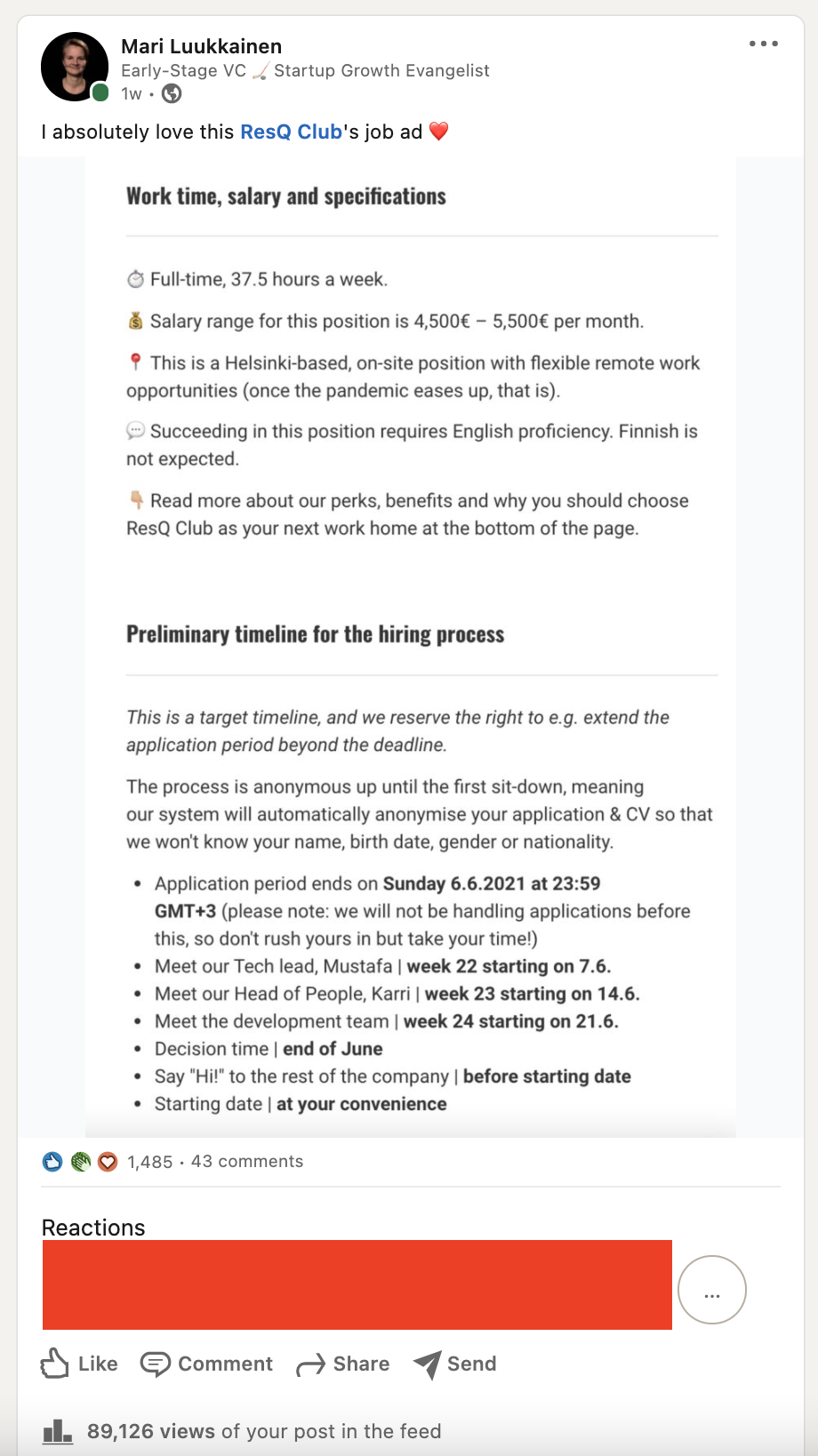 Startup teams are small, with founders and the core team often working across different roles. Not only do new employees need the right skillset, they also need to be a good fit. What a startup cannot afford, is so-called 'dead wood' among their team.
Recruiting the perfect talent to fill any roles starts with writing a convincing and attractive job advert. Here are our top tips on how to write the perfect ad.
Why job adverts matter
Hiring new staff takes time. In the early stages of a startup's development, founders are generally busy working in the business. Hiring the wrong person, however, has larger consequences.
A talent pipeline will make the recruitment process easier. So will a well-crafted job advert. No matter what position you are hiring for, these steps will help you create an ad that is right for you and your business.
Begin with your mission
Your perfect candidate
Mind your words
Experience trumps degrees
Get real
Include your tech stack
Be transparent about working hours and compensation
What happens next
Keep applications real
Make time for a chat
Begin with your mission
Well-known brands find it easy to attract top talent and often struggle to deal with the volume of applications they receive for any given position. They trade on their well-established name and image. Startups, however, are more of an unknown quantity for potential candidates. Joining a company in its infancy can seem like a bigger risk than becoming part of the staff of a well-known brand.
To catch the eye of highly qualified and experienced professionals, start by making it clear what you stand for. Share your company's mission and the vision you have for the business. Having a compelling purpose is often more attractive to the most coveted candidates than a brand name.
In fact, being the 'new kid on the block' has its advantages when it comes to recruitment. Your startup may not have the pulling power of a large brand. But new beginnings and the opportunity to shape a company are very attractive to many potential candidates.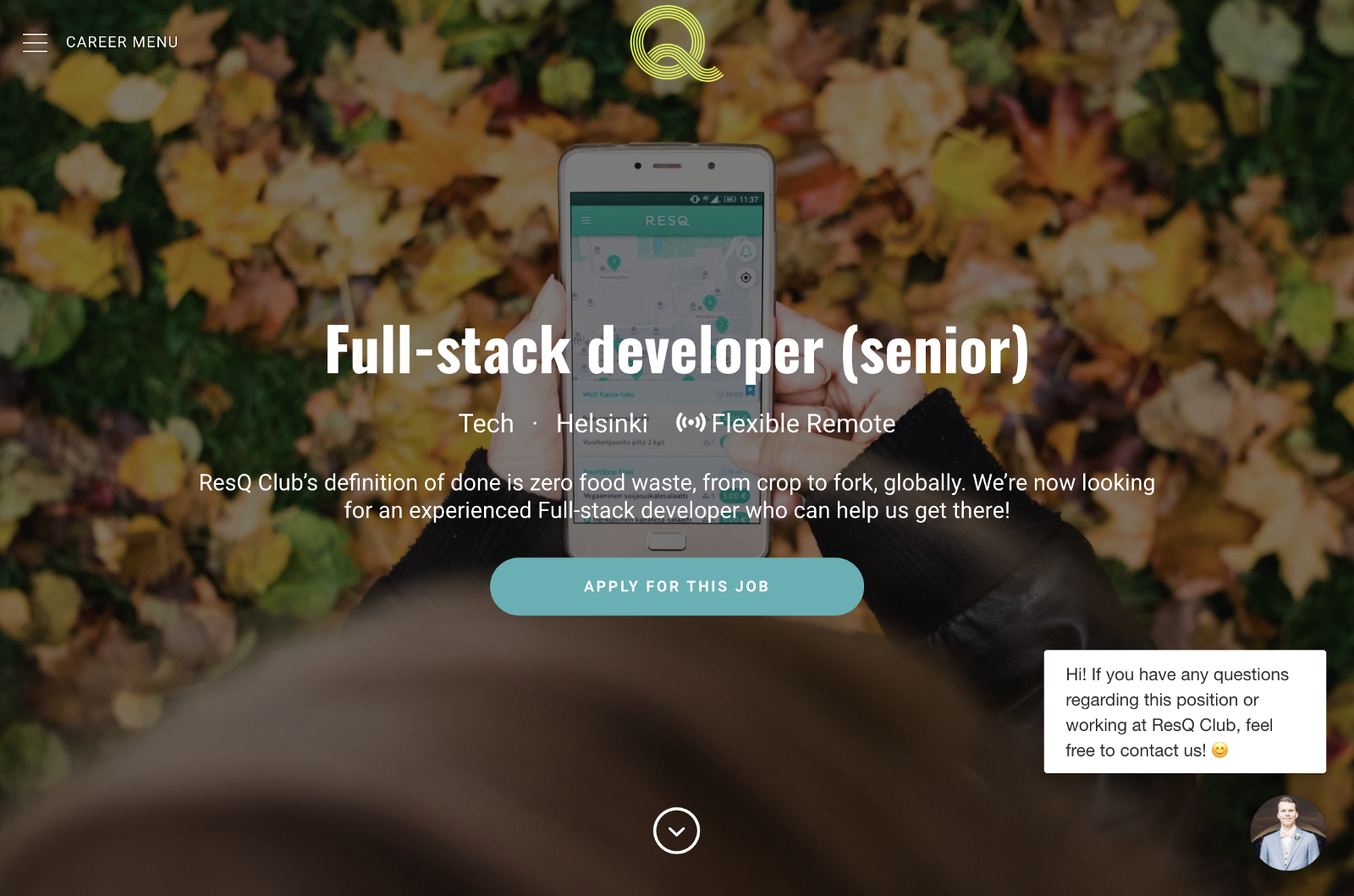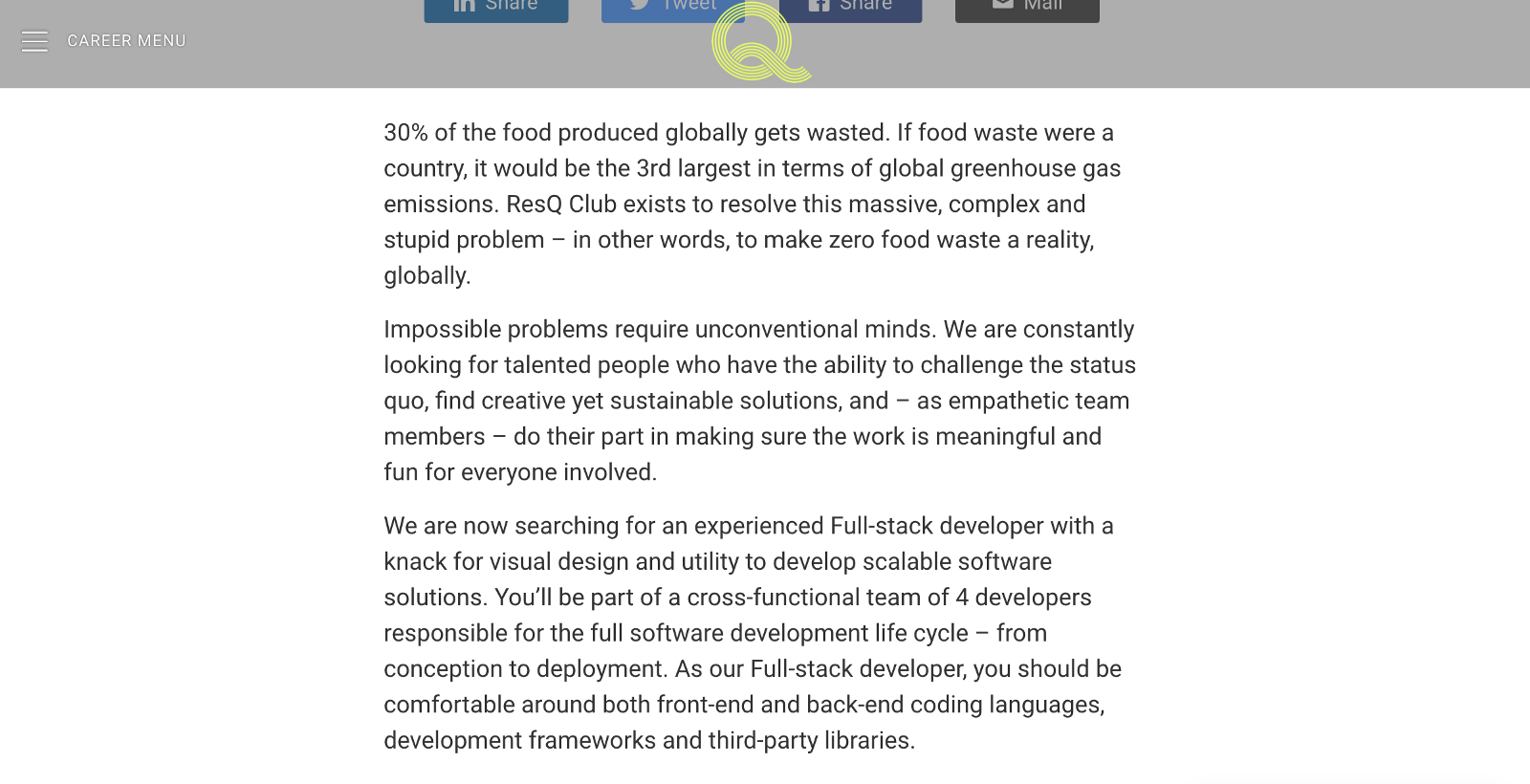 Your perfect candidate
Don't be shy when it comes to describing who you are looking for. List the professional skills and qualifications you need. This is also a good place to mention specific characteristics and personality traits you expect applicants to have.
You may find the hiring process time-consuming, but so is searching for a new position. It is a two-way process, with candidates trying to determine whether your company is right for their next move. The clearer your job advert is the more likely it is to attract the right person. Remember, in the beginning stages of a startup's development, each hire is crucial.
A detailed description of your expectations makes it easier for your hiring manager and for potential candidates. Equally detailed applications are easier to process and choose from. This saves you time when it comes to selecting the candidates you would like to interview.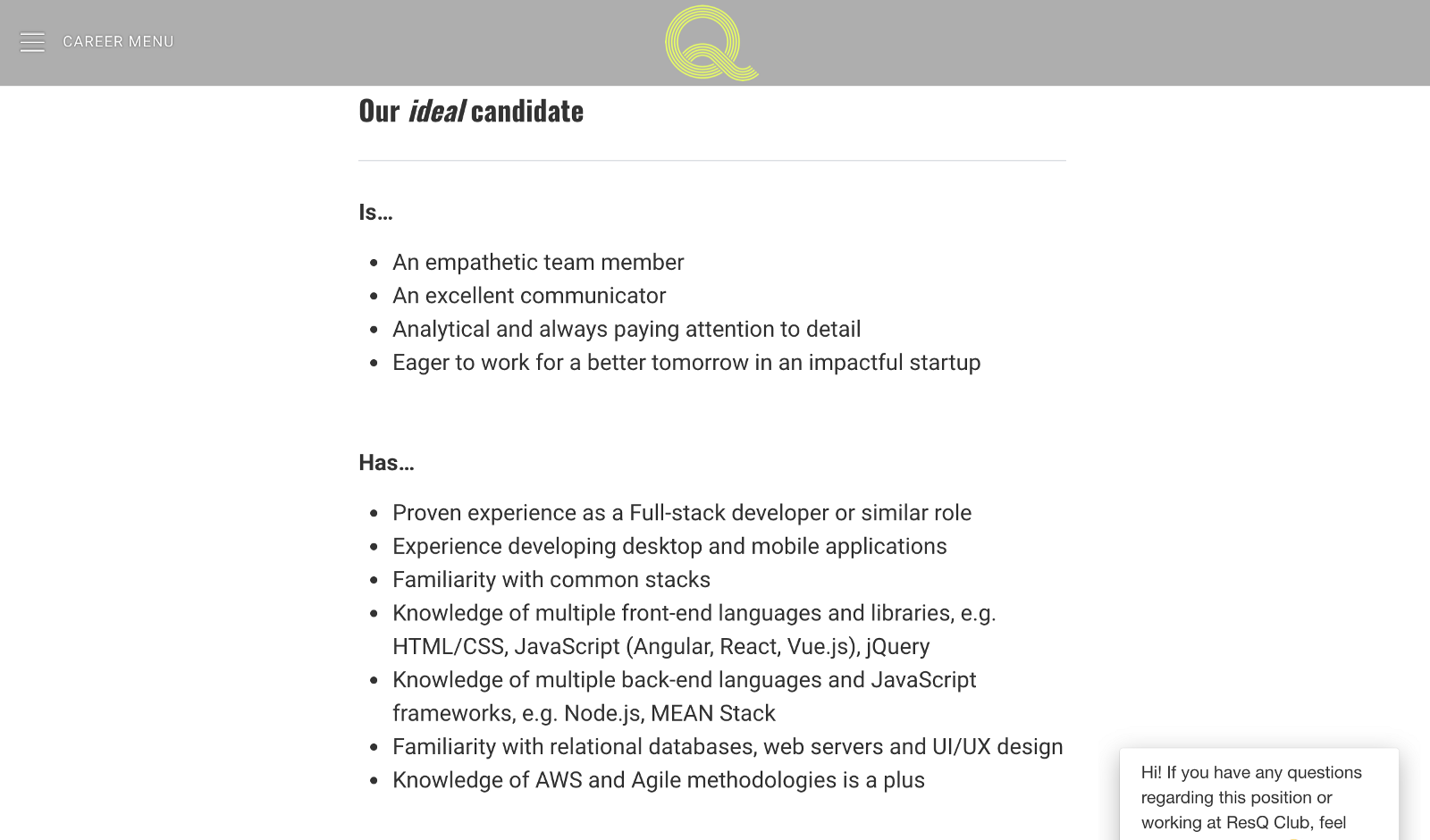 Mind your words
Hiring a diverse team will benefit the development and growth of your company. You will see the results not only in the atmosphere in the workplace. Diverse teams simply tend to outperform others. The results will show in your bottom line.
Striving for inclusivity starts with creating a job advert that entices candidates from different backgrounds to apply. Gender bias is one example of this. If you or your hiring manager are subconsciously using language that is considered male, you will attract fewer female applicants. This does not mean that you cannot use male language. It is simply important to balance it with a similar amount of female language. (Check Gender Decoder if you're not sure!)
Corporate colloquialisms and abbreviations can turn off applicants from different ethnic backgrounds. Instead, use plain language to describe who you are looking for. Direct, straightforward wording avoids misunderstandings during the recruitment process and beyond.
Experience trumps degrees
Does your ideal candidate really need a degree in a certain field or would several years of practical experience mount up to the same level of qualification?
Granted, there are areas where a specific degree is non-negotiable. However, many job adverts simply ask for candidates to be degree-educated without specifying a field. Before publishing your advert, consider whether the degree will truly make a difference to your company.
This is not say that a university education is not valuable. However, diversity also applies to qualifications. Choosing team members with different educational backgrounds will bring a variety of perspectives and approaches to your business. Depending on your industry, this can be more valuable than having 100% university graduates on your staff.
Take each job advert on its merits and do not be afraid to question traditional requirements. Template adverts may seem like they will save you time. However, one of the advantages of being a startup founder is that you can rewrite the rules to suit you. This also applies to your recruitment process.
Get real
Why not list the actual tasks you expect your new team member to perform? Sharing real life activities your new hire is likely to be involved in allows potential candidates to tailor their application.
Consider describing a typical day in the position you are looking to fill. Granted, few startups have typical days. However, giving candidates a real idea of what their work life could look like might help convince some to apply. At the same time, others will decide not to apply.
In either case, you benefit: tailored applications give you a real sense of a candidate's abilities and personality. This will make it much easier to decide whether a candidate is a good fit for your company.
Candidates deciding against applying would likely not have been a great fit for your business. By having provided detailed information, you saved the time spent considering ultimately unsuitable applications.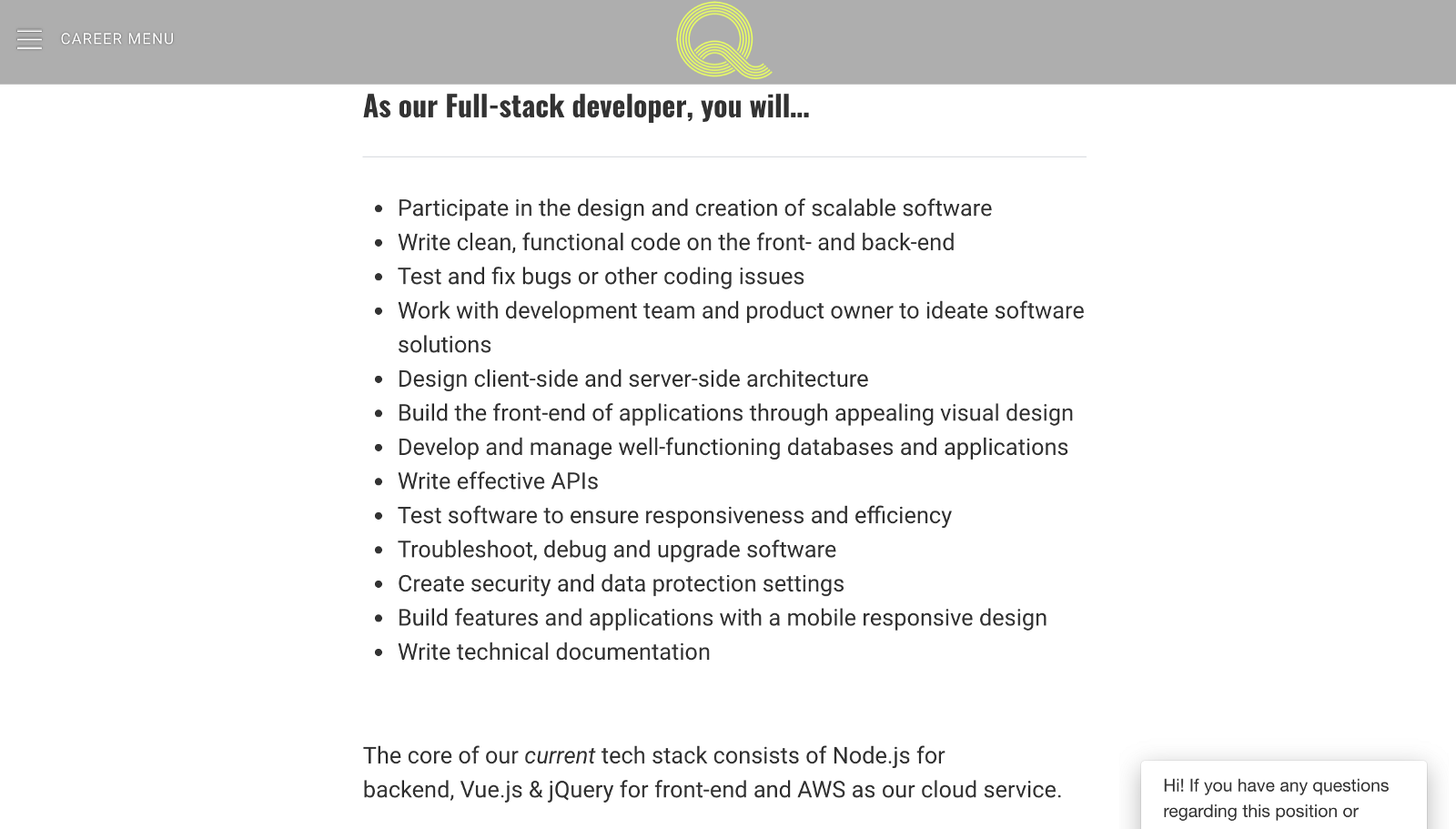 Include your tech stack
Your tech stack is simply a list of technologies your company uses to build an application or support the startup's IT infrastructure. It may include developer tools, programming languages, databases and servers.
Whilst it is normal for tech companies to list their tech stack in any job adverts, other industries benefit as well. This is especially true when you are looking to add IT experts to your team. Generally speaking, software developers are sought-after and can often choose between different positions.
If your company does not obviously operate within the technology industry, detailing your tech stack might give you the edge over a tech company. At the same time, being specific about the technology your company uses helps weed out unsuitable candidates. Those without experience with specific tools will either not apply or have an idea of areas in which they may need to broaden their qualifications.
Be transparent about working hours and compensation
Gone are the days when most professionals worked a nine to five schedule for a set salary. Working hours have become more flexible, and a basic salary is often only one component of a compensation package.
Joining a startup may mean longer hours than normal, but it may also mean more flexible hours. Many professionals are happy to work additional hours if those can be fitted around their lifestyle. Work-life balance is often a question of more than simply hours. Even if it is to a limited degree, being able to choose your work hours may suit candidates with young families, for example.
Not every member of your team needs to be in the office on a daily basis. In fact, over the past 15 months, we have learned that much computer-based work can be done remotely. Whilst there are limitations to working from home, and the concept does not suit everyone, offering flexibility will help attract a wider range of candidates. As a consequence, your company will find it easier to attract a diverse team.
Money is not everything, but few employees choose a position without suitable compensation. Being upfront about what your company has to offer avoids awkward moments during the recruitment process.
Apart from an appropriate salary, top candidates will be attracted by packages including pension and health benefits. As a startup, you may want to consider offering shares in the company. By making your employees part owners, their interest in the company's success increases considerably. Other benefits relate to the company culture. If you are offering team activities or lifestyle-related benefits it is worth listing them in your advert.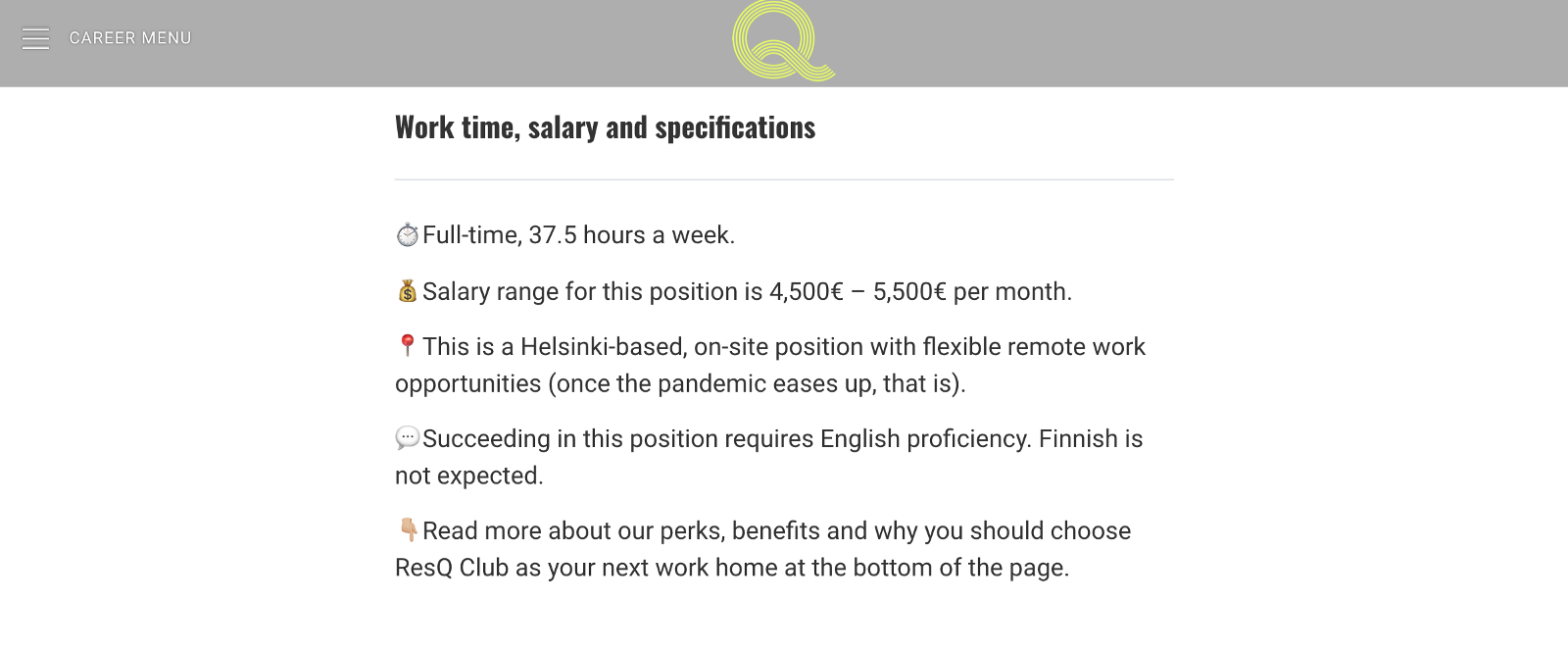 What happens next
Most of us like to be able to plan our lives, personal and professional. Telling potential applicants how your hiring process works, allows them to do that. Naturally, timelines may change, but being given a general idea of the steps involved is useful to candidates.
They will be able to judge when you are looking to fill the position and what is involved in being chosen. Are you planning several interview rounds, or will other tests be required?
Perhaps short-listed candidates will be able to meet the team they would later be part of. Remember joining a company is a two-way process. You are interviewing candidates to see whether they fit on your team. At the same time, the candidates are deciding whether your company is the right place for them.
For many professionals, changing jobs is not a quick decision. Having a multi-step hiring process shows candidates what your timelines are and what they can expect from your startup.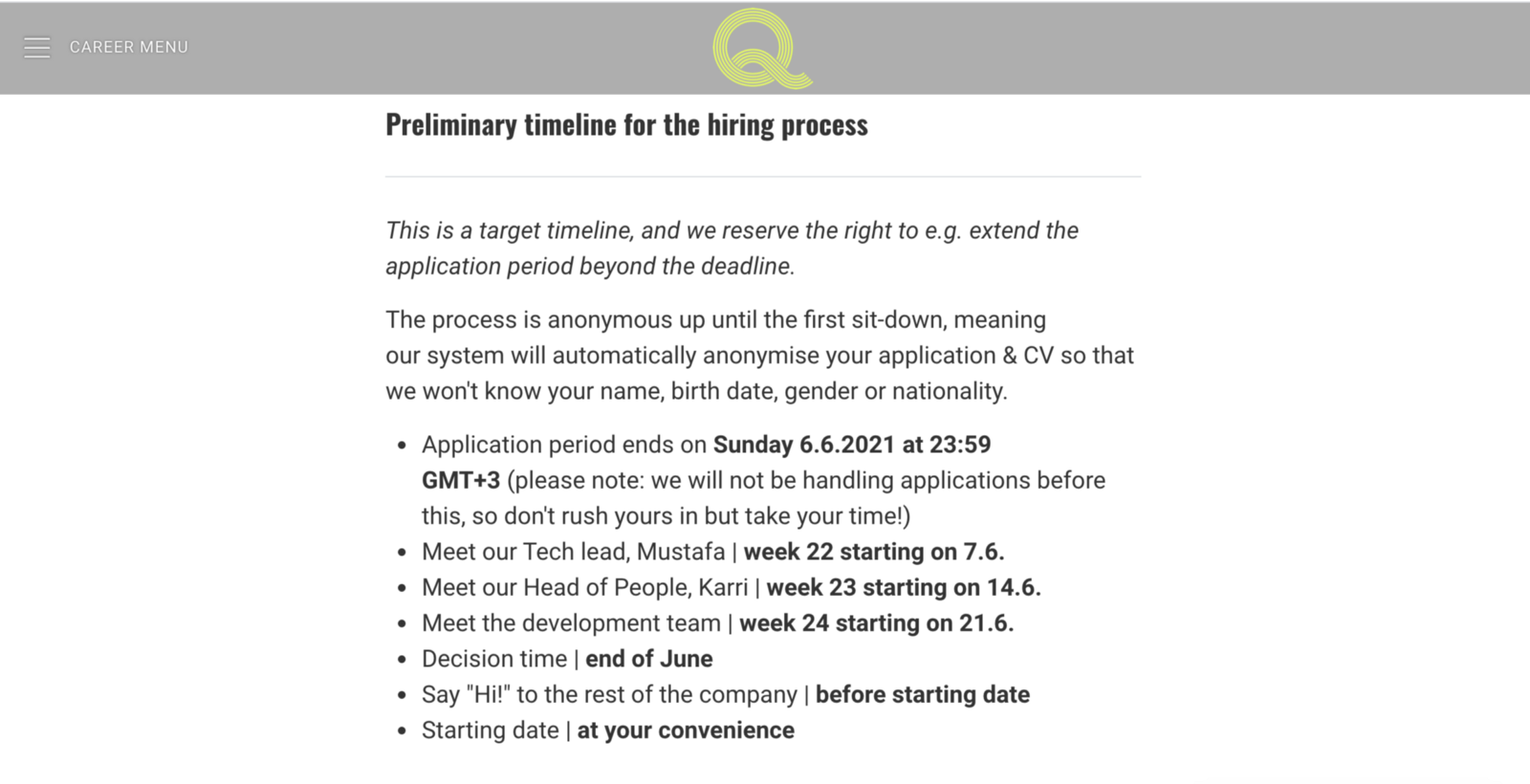 Keep applications real
Cover letters and CVs have been the mainstays of job applications for decades. However, they are limited when it comes to showing a candidate's expertise. More importantly, it is not easy to learn more about someone's personality from a formal CV and a short cover letter. Make your application relevant to the position you want to fill.
If you are looking for a programmer, why not ask to see a sample of their code? Graphic designers have long been used to showing their portfolio, and many copywriters are used to supplying writing samples.
Keeping applications practical and relevant to the job will help keep candidates engaged. It also allows you to learn more about their personality before shortlisting candidates for interview. At the same time, candidates learn more about your business.
In fact, asking questions relating to your company and your industry allows you to find out whether the candidate has taken time to do some research. This helps you gauge their level of interest in working for you. It's a great way of selecting the most promising prospective employees.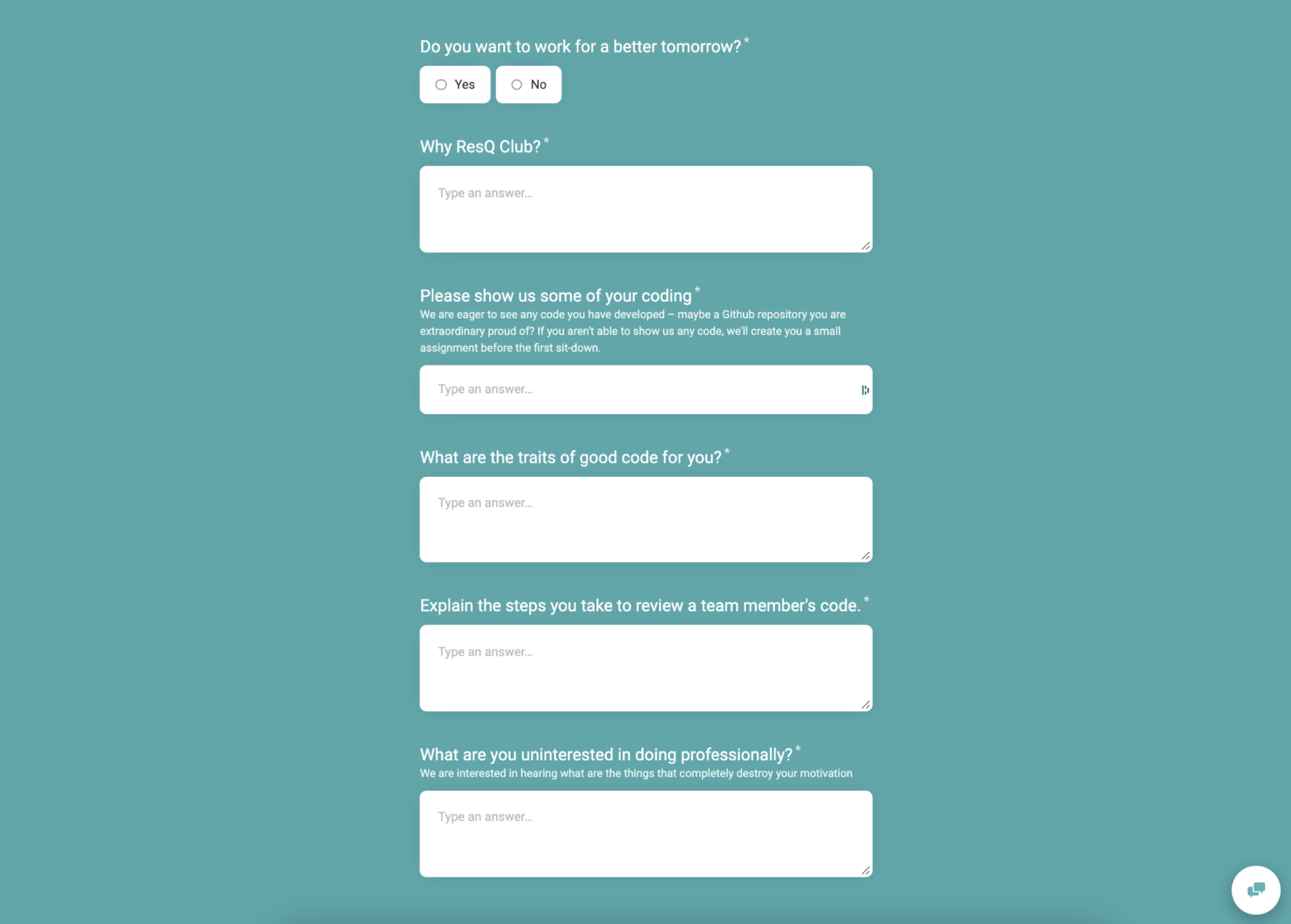 Make time for a chat
Most candidates will have questions about the position you are offering. Being available for a chat may seem time-consuming, but it will actually help you save time during the application process.
Answering potential applicants' questions allows them to decide whether they want to apply. It is possible that you receive fewer applications. However, the candidates who apply will send a more targeted application, making it easier for you to choose the right person.
If you feel that your team does not have the time to answer candidate questions at this stage, consider offering access to a chatbot. Well-developed questions and answers will not only be useful for future hires. You may find that they will be a useful addition to your careers page and help you add to your talent pipeline.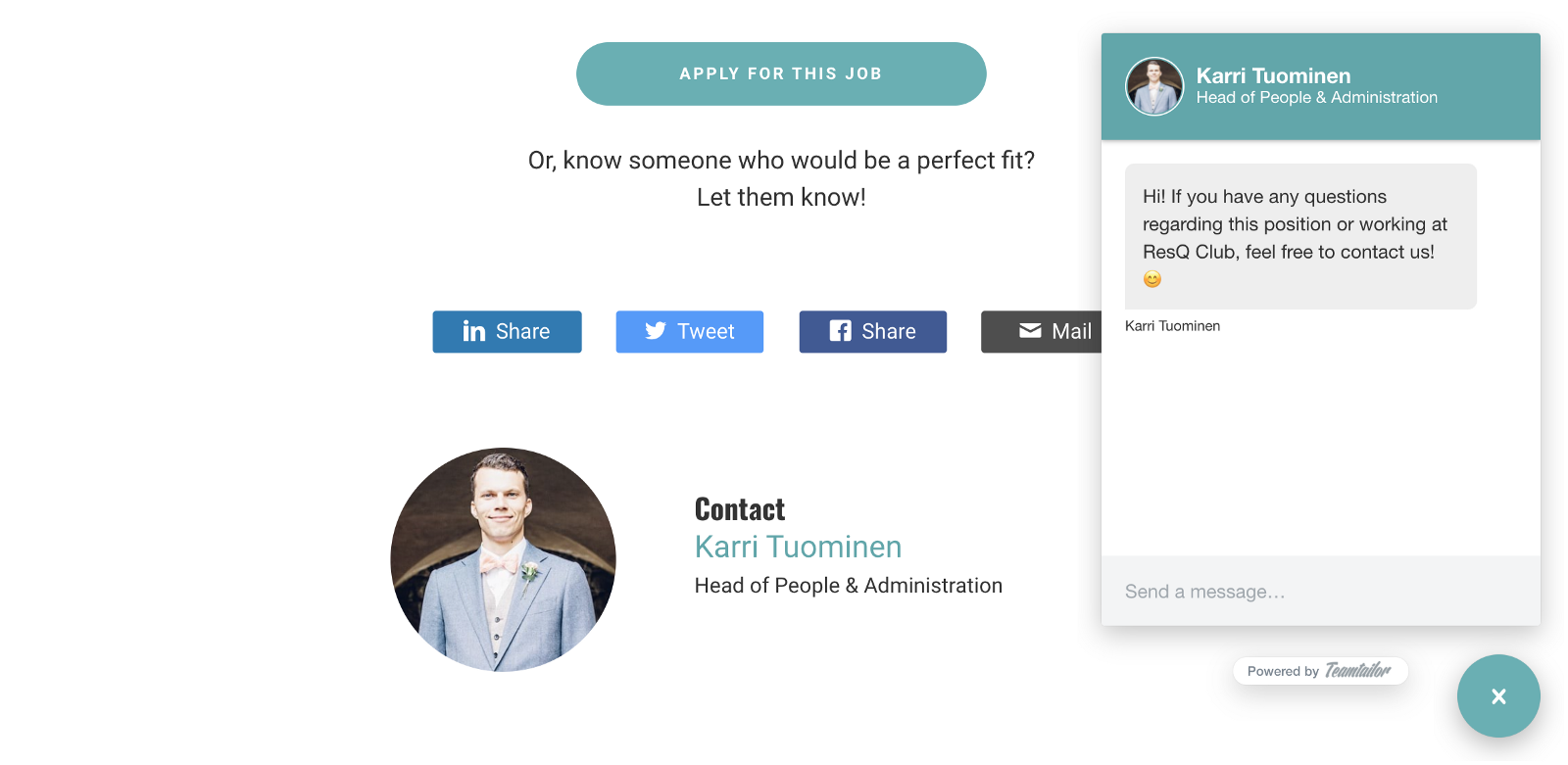 Conclusion
Recruitment can be time-consuming and costly. As a startup, the process may be frustrating, too. Your company might struggle to stand out against bigger brand names vying for the attention of the same candidates.
Creating a captivating job advert will go a long way towards attracting top talent. It does not have to be difficult. Staying true to your company culture and talking openly creates a great first impression with candidates who have several offers to choose from.
Following the steps above can make the difference for your startup and help you find the people who will take your business to the next level.