Make €50K extra income with these 4 side hustles
This blog is one of my sources of more-or-less passive extra income. Here's my take on side hustle business and what's actually my combination of additional revenue streams.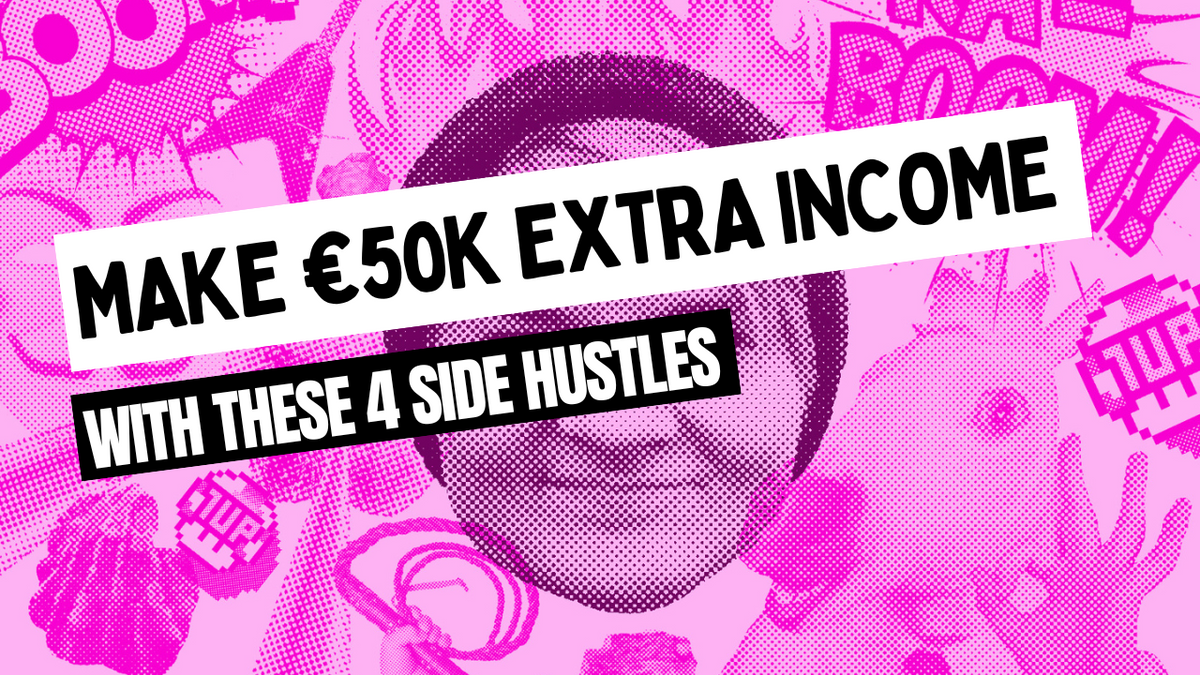 This blog is one of my sources of more-or-less passive extra income. Here's my take on side hustle business and what's actually my combination of additional revenue streams.
A side hustle can give you an additional source of income. With the right side hustle ideas, you can build your saving nest and significantly improve the overall quality of your life. As you're about to discover in this guide to side hustle ideas, you can, in fact, earn up to €50k extra income. Or even more!
But that's not all a side hustle gives you. It also gives you freedom.
You won't have to constantly think about losing your primary income. You won't have to worry about where to make budgetary cuts. A side hustle, in that sense, is more than a source of income. It's a source of freedom and happiness.
In all likelihood, you know that a side hustle can do all that. But what might stop you are certain myths associated with it. So, let's start by addressing those.
Myths about side hustles
The first myth is that you need exceptional talent to start and consistently earn from a side hustle. This is what stops most people from pursuing it. But the truth is that you don't have to be an authority on a subject.
You only have to provide demonstrable value to a paying customer.
You don't have to know everything on day one. Whatever more you need to know, you'll do so while building your side hustle. You can always expand your offerings and learn more skills once you start your new business.
Some people believe that they don't have the necessary marketing training to acquire more customers. Or, they might think that there won't be enough customers for what they have to offer. Both these are far from the truth.
Digitalization has equipped everyone with the necessary marketing tools to build a profitable side hustle. You can find customers from any corner of the world. Sure, it will take some time but once you get going, you'll realize that marketing isn't as hard as you thought it was.
Another popular misconception about profitable side hustle ideas is that you might worry whether what you've got to offer will interest others. A quick online search will tell you otherwise. There's an audience for every skill and topic. It's not that hard to discover them.
And as we'll see, you can monetize most skills and earn up to €50k in revenue. For that to happen, you need to follow a structured process like what I did.
How to start a successful side hustle
You can't just build a website or social media page based on what's trending at that point. Here's the proven method that has helped me start highly successful side hustles.
1. Choose your niche
The first step is identifying what you're interested in and what you're passionate about. Before thinking about audiences or marketing, this is where you have to spend some time. So, how do you figure out your niche?
It could be something related to your profession. Having worked in the domain, you might have built expertise on that subject. If it genuinely excites you, this is something you could work on.
For example, let's say that you're an accountant and have been working with a firm for several years. You could offer accounting services to individuals and families as part of your side hustle.
There's a better way to monetize your primary skill and turn it into a profitable side hustle. Focus on a niche within your domain. So, instead of offering accounting services to everyone, you could focus on freelancers or small businesses.
Your side hustle needn't be related to your job. It could be something that excites you. If you're an avid fan of Latin American literature, you can start a side hustle based on that. If you like East Asian culture, that could be something others would be interested in.
There are a couple of things you should keep in mind when zeroing in on a niche. You don't have to worry about the monetization part at the start of the process. Don't ask yourself how you can build a business out of an interest in Mexican literature or the Japanese way of life. Those can be figured out later.
Secondly, you should deeply care about your niche. Don't choose a subject or skill because that's what people pay for or that's what excites social media users.
You may have to spend months if not years building your side hustle and your interest should sustain you over that period. You may not find a sizable or sustainable audience in the initial weeks or months. If it's a fleeting interest, you might feel disengaged in your topic after a while.
The third reason to find your true passion is that you also have to be a student of the subject. Continuous learning is necessary to provide value to your customers. You might have certain skills but if you don't add to them, your audience might find a better provider in the category.
So, what subject have you always been interested in? On what topic do others ask for your help or opinion? What do you work on during weekends? What websites feature prominently in your bookmarks?
Are you known among your family, friends, or colleagues for being the person most knowledgeable or passionate about something? If money was not a consideration, what would you prefer to do?
These answers will lead you to your niche.
2. Study your competition
A side hustle is a business and to succeed in any business, you need to conduct a competitor analysis. But don't worry, it isn't as difficult as it sounds.
Once you know your niche, approach it as a student. If you've decided that Latin American literature is what you want to focus on, search online for courses, e-books, and expert training on the subject.
Don't be discouraged if you find too many or too few specializing in your topic. What you want to do is understand what they do. You don't have to join a course but you can find online reviews on it. You can download an e-book or watch a tutorial on YouTube.
Now look for opportunities they would have missed. It could be on content, tone, manner of delivery, ease of access, or multi-media support. Maybe you'll see that they don't have enough photos or illustrations. Or you might find it too dense for the average student.
A smarter analysis of potential competitors will help you define your future brand. If you find that all accounting websites sound too formal, maybe your brand could be lighthearted. When everyone is talking official accounting lingo, you could spot an opportunity to be irreverent.
The need for differently formatted content isn't the only thing that you would learn from studying your competition. You might come across an unaddressed audience group. If there's a popular coding course for students, you could find a niche and have the same content but for a different set of students.
You could offer coding lessons for girls, students from different ethnic groups, or working professionals with no background in coding. While your expertise remains the same, now you have an untapped audience group.
Finally, your competition will tell you the fees that you can command for your product or service. You needn't be limited by it but you shouldn't exceed it significantly, especially in the initial stages.
3. Create a distribution channel
The third step in building a successful side hustle is creating a distribution channel. By 'creating' I mean establishing a credible brand presence in a channel preferred by your customers and making it easy for them to find you.
The first thing to understand is that there are enough channels for you to build a brand. The key is identifying the platforms where you're more likely to find your target audience. When you study your competitors, you'll know the answer to this. You'll discover the platforms that your customers use.
Social media is how you can reach your potential audience. But it's very important to develop a viable strategy that gets you in front of your prospective users. You don't have to be on all social media platforms. You only have to be on those where you'll find your audience.
For example, if your side hustle is in the B2B sector, LinkedIn should be your primary channel. This is where you'll find organizations and individuals looking for your solution. If you're offering fitness lessons, you can't ignore Instagram and YouTube. If personal growth is your forte, Twitter and Instagram should work along with LinkedIn.
But don't spread yourself too thin. Two or three social media channels are all you need.
Now it's time to build a credible personal brand on social media. Start writing medium and long-form pieces on your chosen niche. Always think from the point of view of your consumers. Your content should interest your followers and add value to their lives.
The goal right now is to establish interest and authority on your subject. The key to building an effective social media page is consistency; being regular beats being intense.
Look for trending topics within your domain. If you're into coding, is there a new platform being discussed? If small business accounting is your focus, can you share ways in which business owners can save taxes?
It's also wise to share multi-media content. Most social media platforms now prefer video content and it's not difficult to make videos. You can record yourself talking to the camera and add graphics with free software. Share quizzes, downloadable books, infographics, polls, and other interactive content.
Not all posts have to be sales-oriented. But some will have to end with a call to action. It could be to visit your website, call a number, or email for queries. With repetition, there will be a greater recall. But remember, the primary purpose is to provide value to your followers.
4. Build your brand identity
Every business is a brand. Even when you operate as an individual, people will perceive you as a brand based on your attributes and offerings. Brand identity is what people think of when they think of your business and it needs to be interesting, different, and compelling.
It starts with a name. Your side hustle can carry your name or you could think of a concept more aligned with your product or service. While finalizing your name, find out if the domain name is available. Whether or not you want to build a website at this stage, it's a good idea to buy the domain name.
Next, design a logo and identify your brand's color scheme. You don't need a graphic designer's help since platforms like Canva make it easy to create your logo. But if you do need help, you can find affordable freelance designers on platforms like Fiverr.
Along with the logo, create other digital assets including social media banners, profile pictures, etc. These should be on all digital platforms, which will aid your brand recall.
While creating a distribution channel for your side hustle, it's also important to incorporate your brand characteristics. If you want to be perceived as sober and solemn, all your posts should reflect that. If your ideal brand persona is funny or contrarian, your content should be along those lines.
5. Build and test it
The final stage in starting your side hustle is where you build your product and service and get your consumer's feedback. Once you develop your content, whether it's an online course, email service, or ebook, you need audiences to pay for it.
You don't need hundreds of users. All you need is a select group that's willing to buy from you because they're convinced of the value you offer.
An effective way to find your first customers is by offering free versions of your product through your distribution channels. This will organically grow your social media page and build your brand.
Your first paid customers would be users who have seen the difference in your product and now want the premium version. This strategy works particularly well when your product is scalable, like an ebook or email service.
Getting customers is only a part of the process. The important thing is to receive their feedback on how to improve your product, pricing, or delivery module. You can ask them through surveys, polls, or even request direct responses from them.
Keep in mind that your product has to continuously evolve. What you learn from your initial users might encourage you to focus on a different aspect of your domain or how you structure your product.
For example, the early users of your coding ebook might prefer one-on-one coaching. Your accounting clients might ask for long-term relations with monthly retainer fees. Your Latin American fiction lovers could request a book suggestion with discounts from a retailer.
All these possibilities will open up as you roll out your product, test it, and learn from your findings.
4 side hustle ideas that can make you €50k extra income
Now that we've discussed the process for starting a profitable, here are four side hustle ideas that can generate up to €50k in extra income for you.
1. Email subscription
If you have compelling new information, insightful views, or value-added analyses to offer on any subject, an email subscription is an effective side hustle that can get you a substantial income over time. Think of it as building a community and consistently providing value to your readers who pay for your content.
It could be on politics, environment, business, sports, entertainment, technology, or any other topic. If you're good at providing a unique view on a subject, you can find readers.
For example, every Monday, I share my thoughts on early-stage startup growth with more than a thousand subscribers through email. These readers also receive members-only content including in-depth guides and other content they can download.
Once you find your niche, the next step is to start writing authoritative, long-form content. There are several platforms for email subscription, with Substack, Patreon, and Ghost being the most popular. These membership platforms allow you to create and share both free and paid content, with the platform taking around 10% commission from your revenue.
With a mere hundred paid customers paying €5 per month, you're looking at €500 from your new side hustle. 1000 readers and it's €5000. Remember that there's no incremental cost in expanding your user base. But not all your members will pay for your content.
What you need is a large enough number of readers out of whom a substantial percentage will pay for your emails.
The question then becomes how do you get to your first 100 users and then gain your first 1000 to build that audience. Once you have six to eight pieces of content, publish the first one and invite your friends, family, and colleagues. Yes, that's your initial target group.
These are not your paid members. At this stage, you're looking to get visibility for your email subscription. Share your new blog on all your social media handles with a call to action to visit your blog. Your social media outreach needs to be based on your audience insights.
You can post your articles on Facebook and Reddit groups, LinkedIn, and Twitter. There's an excellent way to promote your email subscription through Twitter. You can distill one of your insightful content pieces in the form of a thread.
For example, if East Asian politics is your niche, you could share a Twitter thread on how Chinese aggression toward Taiwan could affect chip prices and technology stocks in the US. At the end of your thread, you can link your blog and encourage readers to follow you.
Building an email subscription takes time, even for the best of writers out there. Be patient, consistently create, and always share your work. All it takes is one breakthrough article. A large publication or influencer might share it with hundreds of thousands of their followers and you can exponentially expand your audience.
2. Online courses
Another highly scalable side hustle, online courses can get you a paying audience from around the world. If you have experience and credibility in any domain, you can offer a unique course that doesn't take up too much of your time but would give you significant returns.
So, how do you conceive and structure a course that attracts users? To begin with, be as specific as possible. You could be an expert in copywriting but instead of offering an online course on how to be a copywriter, it would be much more effective if you could offer it as 'how to be a copywriter for SaaS companies in three months.'
Secondly, the course duration and delivery need to be audience-friendly. People are flocking to online courses for their ease of use and you should always keep that in mind. There's no need for a year-long course on stock valuations.
Nobody has that amount of time and you're limiting your potential audience pool. Instead, do a six-week, 12-week, or three-month course.
Your course needs to have multi-media content with a focus on videos. You only have to shoot them once but they can be shared with hundreds or thousands of students. Online courses with videos also make it easy for the learners, which increases brand loyalty.
You can start offering your course directly from your website. But it would take a lot of time and investment to build your brand identity. That's why it makes sense to go with an established marketplace for online courses. Payhip and Kajabi are two popular platforms through which you can reach thousands of students.
The biggest advantage of going with an aggregator is that they have commendable brand equity and attract students from all over. They also have the necessary technology that makes it easy for you to create courses especially those with video.
Starting with even 20 students who pay €25 for a month-long course can get you €500. But a more effective strategy is to offer multiple courses with premium ones priced at more than a hundred dollars. If you have a long course worth €199 and a shorter one for €49, people would be tempted to go for the short-term course.
With just a hundred students, you're looking at a revenue of €4900 per month from your side hustle.
I have a highly popular eight-week growth hacking online internship course. It's a unique course that uses my learnings from several startups. Since it's video-led, this strategic growth hacking course makes it easy for my students.
With a clearly defined curriculum, demonstrable benefits, and a student-friendly delivery module, it's been a highly successful side hustle for me.
2. Ebooks
Those who make a fortune from their side hustles know the importance of ebooks. A single ebook can bring in thousands of dollars for several months. Beyond that exponential revenue, it also helps you build a brand and drive your readers to your other side hustles.
Don't be alarmed because there's a 'book' in it. In no way am I asking you to write a 400-page book. An ebook can have as few as 30 pages and still provide value to both the reader and its writer. The important question is what do you write on and how do you publish it.
Just like with the email subscription and online course, your ebook should reflect your domain experience and expertise. But there are certain best practices associated with successful ebooks.
For starters, it needs to have a compelling idea. It shouldn't be a passive or sedate compilation of your views, however original they might be. It should sound immediate and unavoidable to the reader. Make sure that you spend enough time creating a title that grabs the attention of your readers.
While creating your ebook, remember to focus on action rather than information. The objective should be to communicate how the reader can benefit from what you share in your ebook. The key has to be what they can get out of the book that will help them in their careers or personal lives.
The next stage is about designing the book. Even if you've never designed a book, platforms like Canva will make it exceptionally easy. They have hundreds of designs that you can customize to create your ebook.
It's an excellent idea to involve a copy editor to look for errors. An accomplished editor will also help you make your ebook more reader-friendly. You can find editors on sites like Fiverr. Once you write your ebook, share it with your friends or family for their feedback.
Now it's time to publish. What you want is a marketplace with an in-built audience. Amazon's self-publishing platform is one of the most popular on the internet. You could also try creator platforms like Gumroad. Once you list your book, all your energy should be on publicizing it through your social media pages and email groups.
Share excerpts from your ebook on your LinkedIn and Facebook pages. Format those excerpts into long threads and share them on Twitter. Along with that, write guest posts for various online publications with a link to your book. Recommend your book to influencers.
Approach popular podcasts and see whether they would be interested in interviewing you or reviewing your book. You've got nothing to lose. Even if a single podcast or publication shows interest, suddenly, your ebook could be in front of thousands of readers.
You have greater freedom to price your ebook. If it has enormous value to the readers, you could price it as high as €49 or even more. Remember that since it's incredibly easy to scale, 200 copies could net you €9800.
My book, 'Growth Hacking Book: Growth Hack or Die' offers unique and actionable insights on how companies can use the principles of strategic growth hacking.
4. One-on-one coaching
An overlooked side hustle that can generate up to €50k extra income is one-on-one coaching. Here, you're offering coaching strategies for individuals that are personalized to their needs. Unlike your mass-market products like emails, ebooks, or online courses, these are highly tailored to the individual you'll be addressing.
Several platforms facilitate virtual one-on-one coaching, including Calendly, Zoom, and Payhip. But to drive traffic there, you need to build a credible presence on social media platforms and your website.
If you have an ebook, online course, or email subscription, you can use those as channels to push your one-on-one coaching. People who have already bought from you and are satisfied with your products would be more inclined to opt for your coaching. So, your existing audience should be the first audience for your one-on-one coaching.
You can have either individual sessions or longer one-on-one coaching programs. Keep in mind that since this takes up your time, you need to charge appropriately. If you can provide demonstrable value, clients will be willing to pay a premium for your services. I charge €500 for 30-minute sessions of one-on-one coaching.
Client testimonials are an effective tool to popularize your coaching. Once prospective customers see the difference you're making to people like them, they will be eager to take coaching from you.
In short
These side hustles will take some time to bear fruit. But if you're consistent and disciplined, you can earn in high five figures. Remember that it takes time to build a brand but once you do have a community of users, it's easy to sell them more of your products.
That's one of the main reasons I selected these four side hustles. They are all organically linked to each other. Your email subscribers could be interested in your ebook and your online students could join your one-on-one coaching programs.
With that synergy, it's not difficult to build a successful side hustle that makes you €50k extra income.