Master customer interviews with The Mom Test-based Notion template for startups
Discover my The Mom Test -based interview template designed to help startups conduct effective customer interviews, refine problem/solution fit, and build successful products.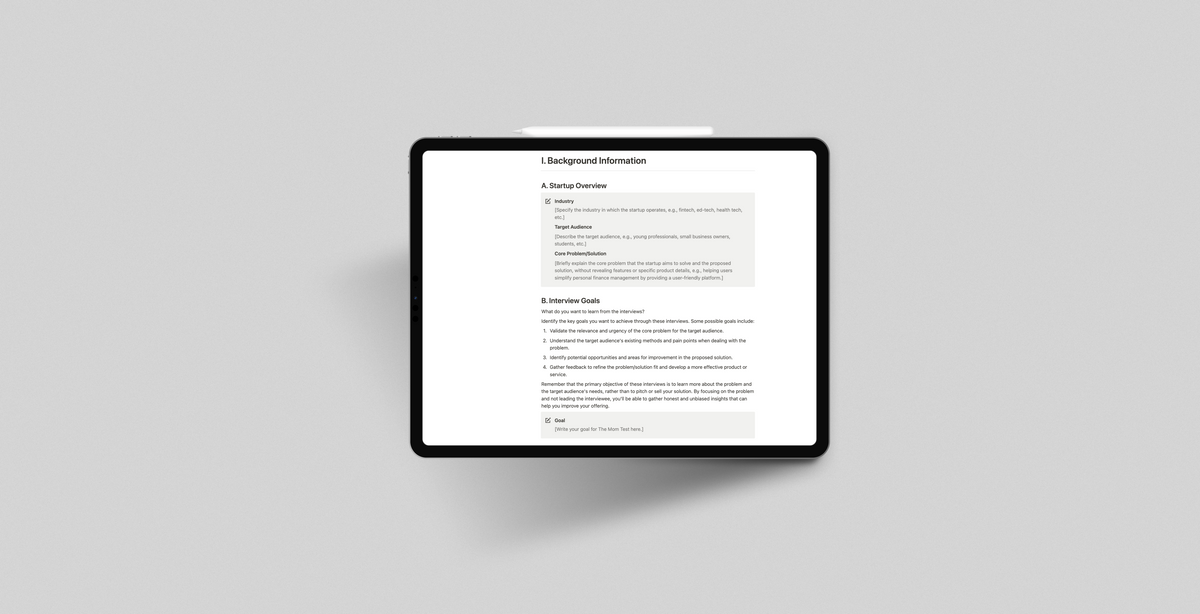 As an early-stage founder, you know that understanding your customers' needs is the key to developing a successful product. One of the most effective ways to gain these insights is by conducting customer interviews. However, it's not uncommon for founders to struggle with asking the right questions and avoiding biases in the responses.
That's where my new free template, "Problem-Solution Navigator: A Mom Test-Based Interview Template for Startups," comes to the rescue!
Based on the highly regarded "The Mom Test" by Rob Fitzpatrick, our template breaks down the interview process into actionable steps, helping you focus on understanding the problem without leading the interviewee or revealing your solution. By following the template, you'll be able to:
Validate the relevance and urgency of the core problem for your target audience.
Understand the existing methods and pain points your audience faces when dealing with the problem.
Identify potential opportunities and areas for improvement in your proposed solution.
Refine your problem/solution fit, ultimately creating a product that addresses real customer needs.
The template will guide you through each stage of the interview process, from preparing and conducting interviews to analyzing and acting on the insights gathered. By systematically documenting and analyzing the feedback, you'll be able to improve your problem/solution fit and increase the likelihood of building a successful product.
Don't miss out on the opportunity to refine your startup's problem/solution fit and better address your target audience's needs! Get the template now and start your journey to building a product that truly resonates with your customers.