OKRs for sales
Follow the guidelines here and use the examples as inspiration to create OKRs that keep your team motivated and set them up for long-term success.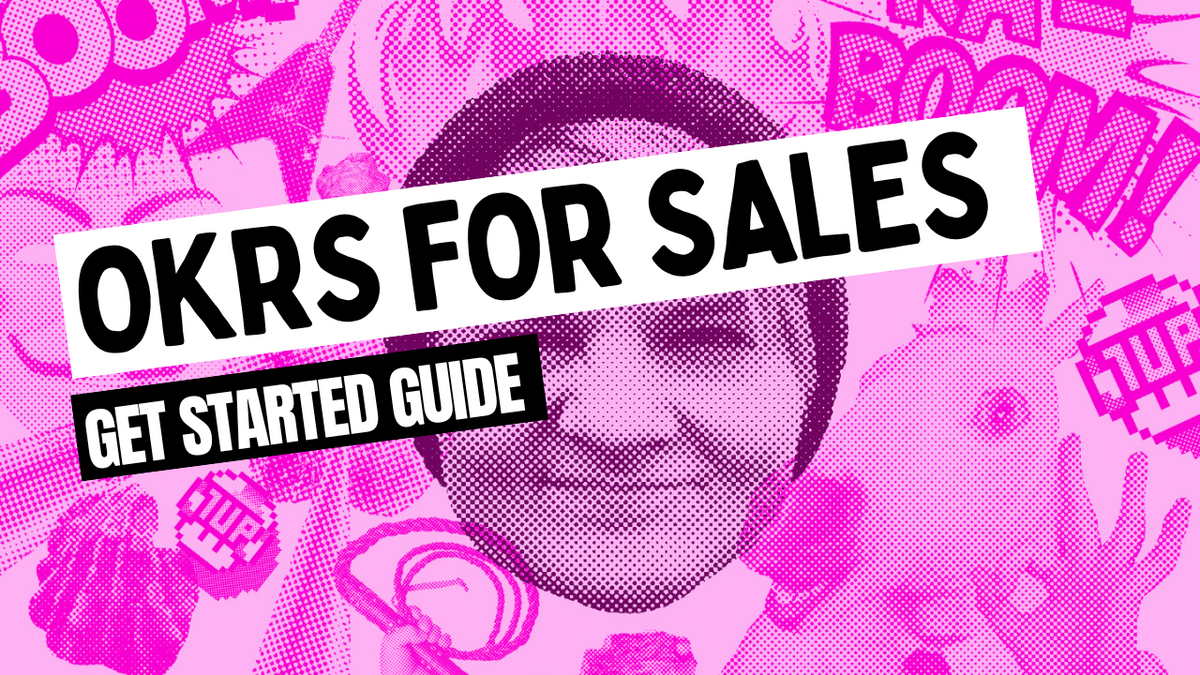 Goal-setting is a critical component of an effective sales team management strategy, whether you run a team of five or 50.
Setting and monitoring goals can help you keep your team motivated, boost productivity, and ensure they continue making progress and improving their performance.
One of the most effective goal-setting frameworks for sales teams is known as OKRs (short for Objectives and Key Results).
Read on to learn more about OKRs, their benefits, and how you can use them to manage your sales team and set them up for success.
What are OKRs?
The OKR framework is a collaborative goal-setting strategy for teams and individual members. It encourages them to set ambitious goals with measurable results. They use OKRs to track progress, ensure goal alignment across departments, and increase employee engagement.
The OKR approach is broken down as follows:
Objectives: What the individual or team wants to achieve; objectives should be meaningful, specific, action-oriented, and inspirational (i.e., the employee has to push themselves to achieve it)
Key Results: Key results are the quantitative metrics one uses to measure progress; they outline how the individual or team will accomplish a particular objective
The OKR methodology is typically time-based. Employees might establish objectives and key results at the beginning of the year or quarter, for example, then assess how close they came to meeting all the key results at the end of the period.
Benefits of OKRs for Sales
OKRs work well for all kinds of teams, from software developers to customer service representatives. They're especially beneficial for sales teams, though.
Here are some reasons for sales teams, in particular, to start using this framework:
Encourage alignment
OKRs ensure everyone is on the same page.
They align all sales team members to ensure they work toward similar goals. They also align the sales team with other teams in the company to help everyone further the company mission.
Track progress
OKRs make it easier for team leaders to monitor employee progress. With OKRs, managers can track how far someone is from meeting a specific key result and identify potential challenges faster.
Overcome roadblocks
The sooner people can identify roadblocks getting in the way of them achieving a particular objective, the easier it is for them to get back on track and continue making progress.
Boost motivation
OKRs do a great job of keeping team members motivated and engaged. Objectives are designed to stretch people and push them to reach new levels within their careers. They naturally encourage employees to do more and stay focused on their goals.
Increase productivity
Keeping employees motivated and focused on their goals also improves productivity. When everyone knows what they're working toward and has precise key results they're trying to achieve, they're more likely to be productive and get more done.
Ensure accountability
OKRs also create more accountability among teams and individual members.
The OKR framework clarifies what each person is working toward and how progress is measured. This approach helps everyone stay on track and makes it easy for them to check in and see how they're doing.
How to use OKRs
If you're intrigued by the benefits listed above, you're likely interested in using OKRs with your sales teams. Here are some steps to take to utilize this framework properly and see the best results:
Identify a big objective
Objectives are meant to be big, motivating, and challenging goals. They can be reached, but only with commitment and hard work from all team members.
Identify specific, measurable key results
After choosing an objective, you should identify specific and measurable key results to track progress toward that objective. They should clarify where you're starting and where you want to end up at the end of a particular time period (end of the month, end of the quarter, etc.).
Conduct weekly reviews
OKRs are most effective when combined with weekly reviews. During these weekly meetings, team members can discuss the progress they made in the past week, talk about their plans for the coming week, and seek help for any problems they've encountered.
Examples of OKRs for sales teams
What do sales OKRs look like in action? Here are some examples of OKRs you might set for yourself, your sales team, and individual members:
Sales Manager OKRs
Objective: Build a more effective sales department
Key Result 1: Promote one senior sales associate to a sales manager position
Key Result 2: Ensure 100 percent of sales managers pass the company's sales certification exam.
Key Result 3: Have each sales manager obtain at least five sales-qualified leads
Sales Revenue OKRs
Objective: Increase sales team profitability by reducing expenses
Key Result 1: Reduce paid subscription costs from $10,000 to $8,000 per month
Key Result 2: Reduce the cost of outsourcing cold call services from $7000 to $3,500 by introducing in-house cold calling
Key Result 3: Increase cold calling activity from 100 calls to 1,000 calls per month
Key Result 4: Hire five sales associates to carry out cold-calling tasks, specifically
Sales Prospect OKRs
Objective: Improve rapport with prospects to increase sales opportunities
Key Result 1: Identify 150 high-potential prospects and conduct background research to gain familiarity
Key Result 2: Develop a 3-touchpoint process with personalized messages based on background research
Key Result 3: List 10 insights on the customer journey based on interactions with prospects, then record them for future reference
Sales Referral OKRs
Objective: Strengthen company sales pitch and improve trust by increasing the number of high-quality sales referrals we receive
Key Result 1: Create eight unique referral email templates that can be personalized
Key Result 2: Increase the team's average referral count from 5 to 15 per month by strengthening long-term client relationships and boosting the number of introductions made by existing clients
Key Result 3: Receive a positive response from at least 75 percent of referrals, and then use these responses to increase sales
Start using OKRs today
Are you interested in using OKRs to help your sales team set and achieve their goals?
Follow the guidelines discussed above and use the examples as inspiration to create OKRs that keep your team motivated and set them up for long-term success.